HALO SUNSHINE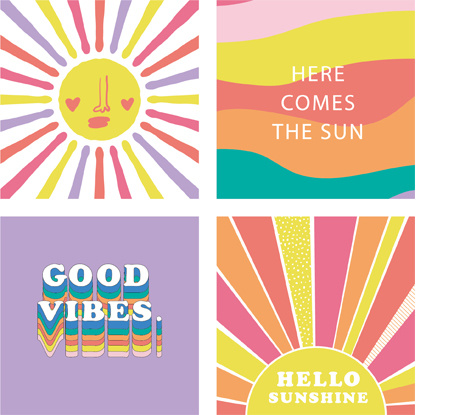 In the context of pandemic lockdowns, the artwork "HALOSUNSHINE" aims to reignite optimism and bring encouragement and joy to the young audience through vibrant colors and positive slogans. By combining words and expressions, it expresses positive emotions and resonates with viewers. The theme is conveyed through the graphical elements of the sun and rainbow.
Color Treatment: The artwork uses a rainbow color palette that is bright and vibrant, combined with sun rays, to evoke a warm and positive feeling. Key Elements: Sun - Depicting a sun with radiating rays, combined with facial expressions or text elements to represent a rising sun. Rainbow - Using flowing and wavy rainbow stripes that echo abstract rainbow imagery and the wavy form of the text. The text overlays create a rainbow effect, and the colorful and dynamic text conveys a sense of rhythm.
Text: Positive slogans are used to uplift the viewer's mood and convey a sense of all things beautiful and a positive atmosphere, encouraging people to make time to enjoy the sunshine and experience a positive and optimistic feeling. The artwork exhibits originality in its conceptualization, color treatment, and pattern design, showcasing a unique style. Overall, the artwork with the theme "HALOSUNSHINE" aims to convey a sense of optimism and a positive attitude. Through the use of vibrant rainbow colors and the representation of sun rays, combined with text and expression elements, it brings encouragement and joy to the young audience. The sun and rainbow, as the main elements, symbolize warmth and vitality. The text, with its colorful and dynamic nature, creates a rhythmic effect and overlays to form the image of a rainbow. The artwork demonstrates originality in its conceptualization and color pattern design, presenting a unique style.
Terms & Conditions ("Terms")
Please read these Terms and Conditions ("Terms", "Terms and Conditions") carefully before using the http://www.syloon.com website (the "Service") operated by Ningbo Syloon Imp & Exp Co., Ltd ("us", "we", or "our").
Your access to and use of the Service is conditioned on your acceptance of and compliance with these Terms. These Terms apply to all visitors, users and others who access or use the Service.
By accessing or using the Service you agree to be bound by these Terms. If you disagree with any part of the terms then you may not access the Service.
PRIVACY POLICY
These Terms of Service incorporate our privacy policy which sets out how we hold and use your information and can be found at Privacy Policy. By using this Website, you consent to the processing described in the policy and that the information you provide is accurate. You are responsible for maintaining and updating account information.
PROHIBITIONS
You must will not misuse this Website in anyway, you will not: commit or encourage a criminal offence; transmit or distribute a virus, trojan, worm, logic bomb or post any other material which is malicious, technologically harmful, in breach of confidence or in any way offensive or obscene; hack into any aspect of the service; corrupt data; cause annoyance to other users; infringe upon the rights of any other person's proprietary rights; send any unsolicited advertising or promotional material, commonly referred to as "spam"; or attempt to affect the performance or functionality of any computer facilities of or accessed through this Website. We will not be liable for any loss or damage caused by a distributed denial-of-service attack, viruses or other technologically harmful material that may infect your computer equipment, computer programs, data or other proprietary material due to your use of this Website or to your downloading of any material posted on it, or on any Website linked to it. The use of automated systems or software to extract data from this Website for commercial purposes, ('screen scraping') is prohibited without license.
INTELLECTUAL PROPERTY, SOFTWARE AND CONTENT
The intellectual property rights in all software and content made available to you on or through this Website remains the property of Ningbo Syloon Imp & Exp Co., Ltd.
You may store, print and display the content for your own personal use. You are not permitted to publish, manipulate, distribute or otherwise reproduce, in any format, any of the content which appears on this Website nor may you use any such content in connection with any business or commercial enterprise. You shall not modify, translate, reverse engineer, decompile, disassemble or create derivative works based on any software or documentation supplied by Ningbo Syloon Imp & Exp Co., Ltd.
REGISTRATION
Where you register on this Website, the following terms and conditions apply.
• You must provide us with accurate registration information.
• You must keep any user name and password allocated to you confidential, and we are entitled to assume that anyone using that user name and password is you.
• We reserve the right to close accounts if you are attempting to hide the use of multiple accounts or disrupt any of our services in any way.
• If you sign into any area of this Website that uses a single-sign on a public computer and do not sign out, someone else who uses that computer after you may be able to access your account(s).
• Where you access the Website using a mobile device (e.g. a phone or tablet) through a web browser, depending on your settings you may stay signed on from that device. This means that someone else with access to your device may be able to access your account(s).
Content
Our website is intended to provide general information about our products and services, including making the inquiries via our website. While we do our best to supply accurate information on this site, errors and omissions may occur. We do not accept any liability to you or any third parties for any loss or damage which may directly or indirectly result from your use of the website or your access to, or inability to access, the website.
Changes
We reserve the right, at our sole discretion, to modify or replace these Terms at any time. If a revision is material we will try to provide at least 30 (change this) days' notice prior to any new terms taking effect. What constitutes a material change will be determined at our sole discretion.
Contact Us
If you have any questions about these Terms, please contact us.
Privacy Policy
NINGBO SYLOON IMP & EXP CO., LTD ("us", "we", or "our") operates https://www.syloon.com (the "Site"). This page informs you of our policies regarding the collection, use and disclosure of Personal Information we receive from users of the Site.
We use your Personal Information only for providing and improving the Site. By using the Site, you agree to the collection and use of information in accordance with this policy.
Information Collection And Use
While using our Site, we may ask you to provide us with certain personally identifiable information that can be used to contact or identify you. Personally identifiable information may include, but is not limited to your name ("Personal Information").
Log Data
Like many site operators, we collect information that your browser sends whenever you visit our Site ("Log Data").
This Log Data may include information such as your computer's Internet Protocol ("IP") address, browser type, browser version, and the pages of our Site that you visit, the time and date of your visit, the time spent on those pages and other statistics.
In addition, we may use third party services such as Google Analytics that collect, monitor and analyze this …
Communications
We may use your Personal Information to contact you with newsletters, marketing or promotional materials and other information.
Cookies
Cookies are files with small amount of data, which may include an anonymous unique identifier. Cookies are sent to your browser from a web site and stored on your computer's hard drive.
Like many sites, we use "cookies" to collect information. You can instruct your browser to refuse all cookies or to indicate when a cookie is being sent. However, if you do not accept cookies, you may not be able to use some portions of our Site.
Security
The security of your Personal Information is important to us, but remember that no method of transmission over the Internet, or method of electronic storage, is 100% secure. While we strive to use commercially acceptable means to protect your Personal Information, we cannot guarantee its absolute security.
Changes To This Privacy Policy
This Privacy Policy is effective as of July 15, 2020 and will remain in effect except with respect to any changes in its provisions in the future, which will be in effect immediately after being posted on this page.
We reserve the right to update or change our Privacy Policy at any time and you should check this Privacy Policy periodically. Your continued use of the Service after we post any modifications to the Privacy Policy on this page will constitute your acknowledgment of the modifications and your consent to abide and be bound by the modified Privacy Policy.
If we make any material changes to this Privacy Policy, we will notify you either through the email address you have provided us, or by placing a prominent notice on our website.
Contact Us
If you have any questions about this Privacy Policy, please contact us.